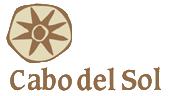 Cabo del Sol has been ranked among the top 100 courses in the world by Golf Magazine. Site of numerous championship tournaments, Cabo del Sol is a true golfer's paradise with scenic greens overlooking the shimmering Sea of Cortez. A 40,000 sq. ft. hacienda-style clubhouse offers a refined atmosphere and the Golf Shop stocks a great selection of accessories, equipment and golf fashion. At Cabo del Sol, the finest in course design meets the highest U.S. standards of play in a remarkable setting of unparalleled beauty.


The Ocean Course, designed by Jack Nicklaus, stretches for more than a mile along the dramatic coastline of craggy rock outcroppings and sun-drenched beaches. Nicklaus refers to holes 16, 17 and 18 as "the finest three finishing holes in golf" and says Cabo del Sol was his chance to "to design a Pebble Beach."


The Cabo del Sol Desert Course, designed by Tom Weiskopf, spreads across 140 acres of gently rolling desert terrain overlooking ocean views. The course varies in length from 4,810 to 7,100 yards with undulating greens, elevation changes and dramatic bunkering. Rated #6 in all of México by Golf Digest, this course is only behind The Ocean Course among Los Cabos' resort golf offerings.


Click here to book tee times directly.


Ocean Course Prices*
January 1 - March 31, 2014

7:00 - 10:20 - $365.00

10:30 - 12:20 - $285.00

12:30 - 2:20 - $220.00

2:30 & After - $165.00


April 1 - May 31, 2014

7:00 -10:20 - $365.00

10:30 - 12:20 - $285.00

12:30 - 3:20 - $220.00

3:30 & After - $165.00


June 1 - 30, 2014

7:00 - 10:20 - $285.00

10:30 - 12:20 - $240.00

12:30 - 3:20 - $190.00

3:30 & After - $140.00



July 1 - September 30, 2014

7:00 - 10:20 - $260.00

10:30 - 12:20 - $190.00

12:30 - 3:20 - $150.00

3:30 & After - $115.00



October 1 - 31, 2014

7:00 - 10:20 - $285.00

10:30 - 12:20 - $240.00

12:30 - 3:20 - $190.00

3:30 & After - $140.00



Nov. 1 - Dec. 31, 2014

7:00 - 10:20 - $365.00

10:30 - 12:20 - $285.00

12:30 - 2:20 - $220.00

2:30 & After - $165.00
Desert Course Prices*

January 1 - March 31, 2014

7:00 - 10:20 - $235.00

10:30 - 12:20 - $175.00

12:30 - 2:20 - $120.00

2:30 & After - $90.00


April 1 - May 31, 2014

7:00 -10:20 $235.00

10:30 - 12:20 - $175.00

12:30 - 3:20 - $120.00

3:30 & After - $90.00


June 1 - 30, 2014

7:00 - 10:20 - $195.00

10:30 - 12:20 - $155.00

12:30 - 3:20 - $115.00

3:30 & After - $85.00



July 1 - September 30, 2014

7:00 - 10:20 - $175.00

10:30 - 12:20 - $140.00

12:30 - 3:20 - $100.00

3:30 & After - $75.00



October 1 - 31, 2014

7:00 - 10:20 - $195.00

10:30 - 12:20 - $155.00

12:30 - 3:20 - $115.00

3:30 & After - $85.00



Nov. 1 - Dec. 31, 2014

7:00 - 10:20 - $235.00

10:30 - 12:20 - $175.00

12:30 - 2:20 - $120.00

2:30 & After - $90.00
*All rates are in US dollars and are subject to change without notice.

Rates include green fee, shared cart, range privileges, bottled water & taxes

Bookings of 17 players or more at the Cabo del Sol courses are charged a $5.50 per person, per round group fee.

---
Golf Vacation Villas and Resorts
Villa Pelicano
This lovely new oceanfront 5,100 square foot villa is located on the 7th hole of the Cabo del Sol Ocean Course at Puerta del Sol. The home features gorgeous views of the Sea of Cortez.
Sheraton Hacienda del Mar
Surrounded by Jack Nicklaus designed "Cabo del Sol" golf course. The Hacienda del Mar is just 10 minutes from downtown Cabo.